---
​
Casting Moms for an Upcoming
Video Series for Romper:
A Site for Millennial Parents by Millennial Parents.
Dear friends and Colleagues:
We are casting a docuseries for Romper
(
https://www.romper.com
) looking for mothers for a compensated opportunity to have an open discussion and share parenting perspectives.
Project details are below, please share with local New York Area parents!
WHAT:
Docuseries for Romper. Mothers with specific viewpoints will have a moderated conversation to openly and honestly discuss parenting for a series of episodes. Each mom selected will film for (1) 4-5 hour day and appear in a 5 minute episode.
WHERE:
Episodes will play digitally online and in social media platforms. Filming will take place in the New York City Area.
LOOKING FOR: Mothers appx ages 21-35.
Should be well spoken and passionate about parenting. Excited to hear from other mothers and discuss interesting and potentially controversial topics in a positive and forward thinking way. Open to all mothers from all backgrounds, races, gender identifications, single or married, etc.
We want to hear from all moms figuring it all out so we can learn from one another (without judgement).
COMPENSATION:
$400 including usage for appx 5 hours of filming.
WHEN:
Week of
Nov 13th
HOW TO SUBMIT:
Please submit via the following form:
https://form.jotform.com/bustlecasting/casting-mothers-for-romper
Submission deadline:
10:00 AM
,
Thursday 11/2
.
Late Submission deadline:
6:00 PM
,
Sunday 11/4.
*******
If you prefer to email a submission, please send the following to
mothercasting@ninaday.com
NAME
EMAIL + PHONE
LOCATION (City + State)
AGE
AGES / DEMOGRAPHICS OF CHILDREN
ARE YOU A MOM WHO WORKS OUTSIDE THE HOME?-Describe occupation, hobbies, passions
*PLEASE ATTACH APPX 3-5 photos with or without your family. Photos should clearly show your face. No sunglasses please.
PLEASE ANSWER THE FOLLOWING QUESTIONS TO THE BEST OF YOUR ABILITY. Partial answers are ok-you may answer as many or as little that pertain to you.
There are no right answers for any of the questions--we want to learn from everyone!
Theme 1:
Have you ever had a conflict with another parent, online or in person, about differences in your parenting style? What happened? Describe your parenting style.
Do you think it's important to offer advice to other parents on the playground or online, or do you prefer to keep to yourself?
Theme 2:
How important is it that your children are able to make their own day-to-day decisions
Does your child participate in activities / play with other children unsupervized? Describe what type of freedoms you give your child or what you choose to be strict about.
Theme 3:
Do your children ever wear clothing or play with toys that doesn't traditionally line up with their gender (i.e. boys wearing skirts or glitter, girls choosing trucks over dolls)? Describe your take on gender separation in school and extra curricular activities. Is Gender neutrality important to you or do you feel certain stereotypes exist for a reason--describe how you handle this at home.
Theme 4:
How often do you share photos of your kids online? How do you feel about images of your child being on the internet? Do your kids have a strong online presence?
Theme 5:
How comfortable do you feel discussing sexual issues with your child? What topics have you discussed with them?
Theme 6:
On which relationship do you spend more time, your marriage/romantic partnership, or your relationship with your children? Would you like to spend more time with one? Please elaborate.
Theme 7:
Would you or have you pierced your child's ears at a young age (under 3)? If not, why?
Thank you!
The Nina Day Casting Team
**You are receiving this email because you have worked with Nina Day Casting in the past. If you no longer wish to receive these emails, please click the SafeUnsubscribe link at the bottom of this message. Thank you for your time!
Nina Day Casting
526 West 26th Street
New York, New York 10001
---
---
Hello,

Thank you for speaking with me on the phone. As discussed we are currently casting a HULU pilot written by and starring Ramy Youssef, an Egyptian American comedian. We are looking for authentic Egyptian Americans to play Ramy's family.

Attached below is a flyer which provides more details on the casting search and the project. If you would be so kind to post this on a community bulletin board or send out via email, that would be greatly appreciated.

Thank you so much and please let me know if you have any questions or concerns.
--
Jason Thinger

Casting Assistant
Estrin/Bergstein Casting
100 East 4th Street, Suite 2
NY, NY 10003
917.675.6115

---
Rolex Central Park Horse Show
Wednesday, September 20th 2017 at 6.30 pm

---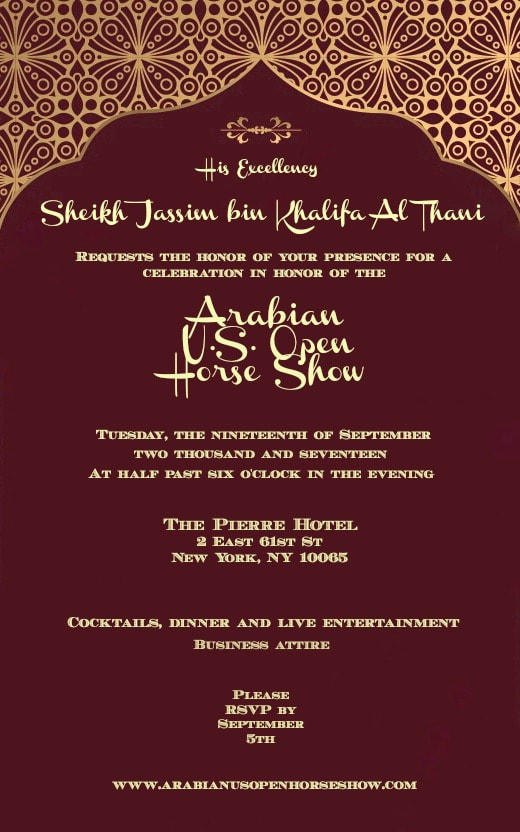 ---
I am reaching out on behalf of the Arabian US Open, part of the 3rd annual Rolex Central Park Horse Show.
We would like to offer complimentary tickets to your instructors and students as part of a cultural outreach to further extend the education, awareness and beauty of the Arabian horse that is so fundamental to the history of Arab culture.
A magical evening as the stunning Arabian takes center stage in NYC's Central Park. Demonstrating traditional attire, and the many talents the breed possesses.
When:
Wednesday, September 20th 2017 at 6.30 pm
​Where:
​Wollman Rink, 830 5th Ave., New York, New York 10065
More information can be found online at:
​http://www.arabianusopen. com

As soon as you have a specific number of attendees let me know and I will leave the tickets under "The Arabic School of New York" at the entry gate.



---
I am writing to tell you about
Polyglot Conference NYC 2015
, which will bring hundreds of polyglots and language enthusiasts from around the world to Manhattan this October for two days of wide-ranging language talks. I would like to have Arabic well represented at the conference and hope you will find this event worthy of sharing with your staff who are interested in language.
Speakers
include the inventor of the language Dothraki for the HBO hit
Game of Thrones
, the scholar Loraine Obler, New York's own celebrity teen polyglot Tim Doner, the head of the Endangered Language Alliance, linguist-writer John McWhorter, linguist-writer Michael Erard, representatives of major language-learning publishers, and more. A new speaker as of this week, I am excited to say, is Dr. Taghreed Al-Saraj, author of
The Anxious Language Learner: A Saudi Woman's Story
. I am one of the organizers, working with the accomplished English polyglots Richard Simcott and Alex Rawlings.
Conference registration is $180 ($150 for students and seniors). I would be delighted if this were an event of interest to you to attend. I would also be grateful if you shared this information with any linguaphiles you know who might like to participate. Thank you so much for your time!
Sincerely,
Ellen
Ellen Jovin
Writer |
Words & Worlds of New York
2109 Broadway | Suite 16-159
New York, NY 10023
Tel
(212) 799-3017
ellen@ellenjovin.com
ellenjovin.com
---
Good afternoon,
I am contacting you from Metlang; we are a large, veteran-owned business supplying linguists for government agencies with several offices across the country, including the New York metro area. Attached is a flyer for available Arabic to English translation work in the NY/NJ area. Please forward any candidates to our website,
www.metlang.com
, to fill out the online application. If they require assistance, please have them contact me at 619-760-7601.
Sincerely,
Christina Olvera
Recruiter/Project Manager
Metlang
1450 Frazee Road, Suite 410
San Diego, CA 92108
(619) 760-7601 Direct
---
Hello,
My name is Cassie Post, I'm the Assistant here at Susan Shopmaker Casting.
We are currently casting a film and are looking for an
African American to play 15-18yrs old who who speaks Arabic
. We've been having some difficulty, so we wanted to reach out to you in hopes you could help!
I'd like to send you a flyer, if possible, that could be posted on campus and/or sent to the Arabic Students via email.
Could I send you the flyer? Or if I should be reaching out to someone else in your program, could you please direct me to them?
Best and thank you for your time,
Cassie PostAssistantSusan Shopmaker Casting
545 Eighth Avenue5th floorNew York, New York 10018
212.686.5502
---
Yossera Bouchtia, has been working on a feature length script for a couple years now about a girl in high school during September 11, 2001. The added texture to the story is that the girl is an American-born, Moroccan, not only raised Muslim, but devote herself, according to her own interior feelings of devotion. This girl wears the hijab because she chooses to, but, in choosing to, is mercilessly bullied at school. That bullying sets the events of the film in motion. To give you a little idea on where it goes, I'll tell you it's a story of overcoming intolerance in a positive way.
---
Wednesday, July 23rd 2014 at 7:00 pm,131 8th st no. 4, Brooklyn, NY

THERE IS AN ELEPHANT IN EVERY ROOM: ART & PROTEST IN EGYPT AND BEYOND


Presentation & Discussion with Ganzeer | | Interference Archive

Ganzeer highlights the social and political relevance of some of the artwork produced in Egypt over the course of the last 3 years and why it frightens Egypt's new dictator. Ganzeer also explains why you don't need a crisis as obvious as Egypt's to create relevant art.

About Ganzeer:
Ganzeer is the pseudonym used by an Egyptian artist who's done everything from graphic design to product design, installation work, interactive videos, street art, comix, writing, and more . Ganzeer, which means "chain" in Arabic, is the founder and regular contributor to the blogazine Rolling Bulb. Ganzeer is quite accustomed to adopting completely new styles, techniques, and mediums to adapt to the topic he is tackling at any given time, prompting Bidoun Magazine to refer to him as a "contingency artist." The Huffington Post has placed Ganzeer on a list of "25 Street Artists from Around the World Who Are Shaking Up Public Art." Al-Monitor.com has placed him on a list of "50 People Shaping the Culture of the Middle East." Ganzeer is also one of the protagonists in the critically acclaimed documentary Art War by German director Marco Wilms. He was involved in the independently organized "Shit or Freedom" (2013) exhibition with Hany Rashed, Ammar Abo Bakr, and Ahmed Hefnawy at the abandoned Viennoise hotel in downtown Cairo.
​