Time for Arabic! What's the time?
In order to cut down on class time spent on recognition drills, we use a computer-generated format, so that you can spend as much time as you need practicing these basic but very important tasks, moving at your own pace. These practice exercises include recognizing numbers (in one-, two- and three-digit groups) and identifying the letters of the alphabet and their form in different positions (standalone, isolated, initial,medial connected, and final).

This particular drill requires you to say the number that appears on the screen before it disappears. You can freeze the number and prevent it from disappearing by hovering your mouse over it.

Please try to spend as much time as you find necessary to master these basics, so we can move ahead and accelerate your learning process.

Single-digit numbers:

It's easy to get intimidated when learning how to read and write Arabic, but the numbers zero to nine are easy to master, especially if you use what you already know. The numbers 1 (١) and 9 (٩) look exactly like English. 2 (٢) looks like 2 in English backwards with the bottom line removed. 3 (٣) looks like a floating English 3, attached to the line by a 1. 4 (٤) is like a backwards 3. 5 (ه) in Arabic looks like 0 in English, and 0 (٠) is just a dot. 7 (٧) is the same, just turned on its side. 8 (٨) is 7 upside-down. 7 and 8 look very similar, but you can remember which is which by looking at which direction the arrow-like shape of the number is pointing. 8, which is a larger number, points up, while 7, the smaller number, points down.

In this section, you will see single-digit Arabic numbers displayed quickly one at a time. You can use this tool to practice the basics independently. Try to identify each number before it disappears by saying it in Arabic in a clear, loud voice. This helps to get you comfortable pronouncing new sounds and makes it easier to remember what you've practiced later on.

If simply identifying the numbers is too easy, the exercise can be adjusted to match your skill level. If you want to challenge yourself, try saying the number before or after it. For an even greater challenge, you can also try doing simple math problems, such as adding two to each number and saying the sum aloud. Your instructor can help you to develop further exercises.

Triple-digit numbers:

Arabic grammar is known for being complicated and rule-heavy, and numbers are no exception. Nouns in Arabic have genders, masculine or feminine. Sometimes the number matches the gender of the noun, sometimes it doesn't--don't worry about this for now. Just focus on getting comfortable speaking and on identifying the numbers quickly and accurately. We will revisit these rules in-depth later on.

In this drill, try to recognize the three digit number. If you can, say it aloud in Arabic before it disappears from the screen. This exercise is challenging for beginners, so don't get frustrated and just keep practicing. You'll get it in no time!

---
Single letters:

Here, letters from the Arabic alphabet are displayed one-by-one. As before, try to correctly identify the letter, saying it aloud as you do. The more you make these sounds, the more comfortable your mouth will be forming them.

Those looking for a greater challenge can try to think of a word starting with that letter, saying it aloud before the letter disappears. If this is too difficult or if your vocabulary is limited, try to think of a word that contains the letter and say it aloud before it disappears. These exercises will train your brain to work faster when recalling words.


Three letters:

For this section, you have to think a little faster. Three letters will be displayed onscreen. Try to say all three aloud before they disappear. For a real challenge, try to think of a word containing all three letters. The more we work at remembering what we've learned, the better we get at remembering it. This exercise will be extremely helpful for improving recall speed.


---
Vowels:
Arabic has three short vowels--damma, kasra, and fatha. The damma is a short oo, the kasra is a short ee, and the fatha is a short aa. There is also the suqoon, which indicates the absence of a vowel. The symbol for kasra and fatha is the same, but for kasra it appears beneath the letter and for fatha it appears above. Both damma and suqoon are placed above the letter they are modifying.
---
---
In this section, these four symbols will be displayed above or below letters. When you see a vowel, say its name aloud and whether or not it is in the correct position. Learning these vowels will make reading Arabic much, much simpler if the text is marked with them. They are very important grammatically, but for beginners they are simply helpful for accurate, quick reading.


---
Connected Letters:
Nearly every-Arabic letter can be joined to its neighbor from both sides (normal letters), and they can have up to four contextual shapes: (1) Isolated or Independent (2) Initial (3) Medial (4) Final. There are few letters namely known as non-connecting ا د ذ ر ز و and some instant letter ء and ة that have no initial and medial shape. Therefore, they can only be joined to its previous letter (not on both side). In the drill below you need to recognize the letters on the screen, all of them in shapes other than stand-alone.

Ligatures.
When we write in cursive handwriting, all the letters in a word are usually joined to each other. Using the Roman alphabet, the forms of the letters don't usually change very much, but still you might write an "e" or an "s," for instance, a little differently if they are the first letter in a word, in the middle of a word, or at the end of a word. The same thing happens in Arabic, which is based entirely on cursive forms.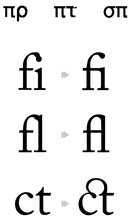 It also happens that certain pairs or groups of letters that occur quite frequently are combined into standard "ligatures" (tying together). You can see this sometimes with printed Roman text: see fi, fl and ct below. Greek can do this even more; you probably know the letter "pi" from math, and see how the combinations in the image work. These combination, both in Roman and Greek, are influenced by what looks good ("fi") and also by what people are used to from handwriting.
---
Arabic goes a little further, because all the letters are based on cursive forms, so that they combine that much more fluidly, and also the beauty of the script is always a consideration, even in when using a typewriter.

Ligatures aren't really important in roman alphabet and, though cursive handwriting is all "ligated," in printing ligatures are only used for certain combinations and only occur in certain typefaces. There used to be a standard "ss" ligature of long "s" followed by short "s" which was used, particularly in handwriting, in the nineteenth century, but passed out of use by around 1860 or so.

Arabic Ligatures

Arabic ligatures are called "murakabat" in Arabic. You should study the following examples so you will be able to recognize them in both handwritten and printed form. The hardest letter to spot is miim so study its shape and location below.

Arabic lette​rs ​ ​change shape according to their position and also according to what letters come after them. Try to identify whatever letters you recognize in these combinations. When you see two dots but you don't recognize the letter associated with them, ask yourself how many letters have two dots, and take it from there, as this will narrow down your choices. To narrow things down, it's also worth remembering which letters can't connect to the letters that follow them and which ones have ornaments, and so on.

---
Your first 100 Arabic words
Enrolled Students: Please download the written and audio files for your first vocabulary list then test your knowledge using the flashing words below:
---
Your first 100 Arabic verbs
Enrolled Students:
Please download
the written and audio files for your verbs list then test your knowledge using the flashing verbs below: