Evaluation of teaching ​
---
It is my pleasure to provide this letter of recommendation for Mr. Tarek Mahfouz, Arabic language instructor. Mr. Mahfouz is the author of Speak Arabic Instantly and has served as my Arabic tutor for more than one year. As a university professor, I have very high expectations regarding instruction. Mr. Mahfouz excels in applying the principles of adult learning in a manner geared towards student success. His patience is unmatched as is his skill in associating new material with existing knowledge to enhance greater understanding. Mr. Mahfouz is highly organized, well-prepared and readily adapts to the individual pace and comprehension of his pupils. My lessons with him were not only educationally sound, but highly enjoyable. He has a keen ear for inflection and pronunciation allowing steady, gradual improvement of spoken word as well as comprehension, reading and writing. He infuses warmth and humor into every session encouraging greater student comfort and participation.


---
Noam Chomsky <chomsky@MIT.EDU>
​
Should be easily arranged if we can find ourselves in the same place. If at my office, a little tricky this summer. I'm away a lot, but there a number of times. I'd suggest that you contact Bev Stohl, at this address. She knows the schedule and arranges everything.
Noam Chomsky
---
Mr. Mahfouz would certainly be an asset to any language department. Students will be grateful for his skill, patience and sunny disposition. Thank you for allowing me to offer my perspectives.


---
As Director of Foreign Language Studies at Rennert Bilingual, I wish to recommend Tarek Mahfouz as a highly qualified and charismatic Arabic Professor. Rennert Bilingual is a private language school in New York City which has been in business for 36 years and where I am in charge of hiring teachers and overseeing the quality of instruction. I speak French and Spanish, but not Arabic. Therefore, when I had to hire a new Arabic instructor for the fall term, I knew I would have to have complete faith in the person I hired. Mr. Mahfouz, with his lively manner, sense of humor, and knowledge of Arabic culture inspired that faith in me immediately, and he has more than met my expectations.

Judith Burnell
Director of Studies
Foreign Language Programs
Rennert New York
216 East 45th Street
New York, NY 10017
Phone: 212-867-8700, x84
Direct: 646-651-1184
jburnell@rennert.com
www.rennert.com


---
Nothing will ever compare to your teaching.
---
Tarek Mahfouz is lively, enthusiastic, adaptable, and has a very definite ability to truly connect with students. One advanced student who met with him privately for several months told me that she was never bored for one single minute in his classroom, that he could teach both simple and complex topics in clear, interesting and entertaining ways, and that he was always well organized and punctual. In fact, she recommended him to several of her friends who came to us because of him and who still study with him at our school.


---
I have been able to depend on Mr. Mahfouz completely to recreate and drive the Arabic program . I have no doubt that he is the unique reason for its success. I consider him irreplaceable and will be very sorry to lose him, but I know that he deserves the opportunity to work within a more challenging academic environment that we can offer him here.


I recommend Mr. Mahfouz to you without reservation
---
Tarek Mahfouz has given me private lessons in Arabic for the last year and a half. I am an intermediate student in Arabic, having begun classes at the United Nations in 2004 and continuing them until now. I take reading, grammar, and listening and media classes. With Tarek I focus on things which have been passed over in class or which I have not sufficiently mastered. We do a lot of conversation. He is a wonderfully enthusiastic teacher of Arabic and his knowledge of grammar and dialects is excellent. I have had several private tutors before him and he is the best.


---
I was a simultaneous interpreter at the United Nations, from French and Russian into English for 30 years. I have also studied Greek, Georgian, Spanish, German, Italian and some others, so I am familiar with languages and how they are or should be taught. I have many different teachers of Arabic at the United Nations, plus I have been to Egypt to study 3 times.

Tarek sends me links to articles and information on the computer outside of class. He is always thinking of new educational tools to use. He introduced me to Arabic electronic dictionaries and as a result I got dictionaries in Russian and Italian as well. He is very knowledgeable about many areas of Arab culture, even cooking and recipes!

He is a very hard worker, very positive and very motivated to get his students to be proficient.


---
You are a great teacher and I have enjoyed our private lessons. I will be in touch and thank you.

---
I am a Jordanian American living and working in New York City. I currently work full-time for a hedge fund, and am involved in music and volunteer programs on weekends. From a young age, I had limited knowledge of Arabic and have wanted to expand my knowledge of the language to enrich my personal and professional life. I had taken private lessons on and off since 2001 with different teachers, yet was unable to find an individual who could adjust their method and pace to complement my personality and learning style.

In August of 2007, while planning for an upcoming trip to Jordan, and was put in contact with Tarek by Arabic inc. Language School in NYC. They praised Tarek's teaching style, personality, and his great successes in teaching students the difficult yet beautiful language. From my first lesson with Tarek, I was struck by not only his friendliness and warmth, but his sincere interest in assisting me in learning Arabic. Besides this, Tarek clearly discerned that I was a fast learner with a good memory and could take in a great deal of information in a short time. He quickly and fluidly adjusted his teaching techniques and pace as he observed those that I best responded to. Interestingly, when I initially met Tarek, I explained that I did not wish to learn to read and write, as my desire to speak was so great. I felt I could learn those skills later on. Tarek kindly encouraged me to begin first with reading and writing. To be very honest, I was somewhat disappointed, yet because of his great enthusiasm and confidence in this suggestion, I agreed. It is now May, ten months after this conversation and I can now read, write and speak Arabic at a beginner's level. Tarek was accurate in his suggestion, although I thought I knew best. I cannot imagine attempting to speak Arabic without being able to read and sound out words. Tarek fills my Arabic lesson with a great deal of vocabulary and grammar, and always ensures that I practice speaking, reading, and writing in each lesson. When he perceives that I am having difficulty in a particular area, he dedicates time to explain it thoroughly, ensuring that I have grasped the concept before moving on to the next. I always amazed at how much I learn in the hour and a half we meet! He explains the most basic and difficult concepts in a way that is easy to understand. He has excellent written and verbal communication skills in both Arabic and English, and additionally has knowledge of other languages including French and Spanish. Also impressive, Tarek is punctual, reliable and organized. He rarely has to reschedule a lesson (though I often have to because of my work schedule!) and when he does, he immediately contacts me to make other plans. He answers emails quickly and has by doing so, always fostered an environment of communication between student and teacher. He accomplishes all duties as a teacher with great initiative and with the most positive of attitudes. No one that I have come across has assisted me in making such tremendous progress in such a short period of time.

I highly recommend Tarek Mahfouz to you without reservation.
---
Thank you for teaching Arabic and offering these classes. I hope to register in the future for more of your classes and improve my progress in the language. I really love and appreciate the depth and History of this language, it's beautiful and sacred and I hope that one day I can speak, read and write with confidence.
---
Hi Tarek, got back from Egypt this week and wanted to thank you again for giving me an introduction to your beautiful language. Turns out, I knew more than enough to get by, and I had a great time trying my vocabulary out on the the people I met. (the bit of Egyptian you taught me was an especially big hit). Thanks also for the restaurant recommendation. Abu Tarek turned out to be a great find - I convinced about 14 people to go and every single one loved it.

What a fabulous country - I hope I can go back again sometime soon, and maybe even continue my arabic lessons when things settle down. I'll send you a link to photos as soon as I get them uploaded.

Thanks again for everything, Annie

PS I am passing your contact info on to a friend of mine, XXX, who met an Egyptian guy over there. He's been texting her in
Arabic, and she needs an intrepretor. She said he's happy to pay $ for the translation.
---
I've been away 5 weeks and it's enough. I've fallen in love with my family here and will come again. As I get better in speaking Amiya and FosHa I will speak more and more arabic with them and that's your job!!!: to make me better!!! I may come in Feb. What I've really improved on is reading, looking up things in the real Arabic dictionary by zhethr; also I can speak FosHa but I have my good days and bad days and I have miles to go. My understanding is much better too, now I can understand phrases on TV, not just words. But my aimiya is not good. Thank you for helping me get ready for this trip. You are the best tutor I've had.
---
Hello Tarek!! I'm so grateful to you for all the useful words and info about Cairo. Ana asaima, ja Tarek. 10 days. Too hard but I've learned a lot from doing it with my family etc. So tht's why I haven't been to abu tarek or taken any pictures of koshary or anything, but go out a tiny bit, they live on the very outskirts of El Maadi, Zahraii Maadi, so I have to have a driver to go anywhere. But next Tuesday I'llmove into the Sofitel with my husband and then come out here for lessons. To tell you the truth, although the family is wonderfully nice, they speak way too much english and it's not asw good as I thought it would be. Malish! The level of teaching is not up to yours. If I do this again, and |I probably will, I'll find another family. Maybe your sister? LOL. Anyway I can't wait to get to all the places you told me about. ACtually on Sat. my driver Mohamed is going to take me to Khan El Khalili and then we'll go eat together at abu tarek and I'll take the pictures. I did without water for the first few days and now I take little sips when I can't stand it. Anyway, I have to take li8ttle sips because I have pills I have to take. Anyway, I did my best. 3 and a half hours until iftar today and then one more day!!! Ramadan mubarek!!
---
Tarek--you are making some AMAZNG progress on the Readings! Really nice job.
---
Sent: Thursday, January 17, 2008 5:02 AM
Good Morning Tarek:
Thank you very much for committing to teaching this student.
​
You are a great teacher and I was in desperate need of one.
Don Reichenbach
Instructional Supervisor
Berlitz Language Center.
31D Hulfish Street
Princeton, NJ 08542
Ph: 609-497-6571 x12 Fax: 609-497-6575
Donald.reichenbach@berlitz.us
"Helping the world communicate for 130 years"
---
Thanks for the heads up. I will certainly indicate to our client that the student is interested in studying with you again.
---
Deciding to dive into Arabic language with Professor Mahfouz was one of the best decisions I made the summer of 2002. Dr. Tarek made Arabic language fun and engaging through reading the news, writing plays and translating Naguib Mahfouz's novels. Professor Tarek inspired a deep interest in Arabic culture and language that I plan on expanding upon in my post college career
---
" I would like to take this opportunity to thank Arabic School of New York and particularly my instructor for the three weeks of Arabic language training I recently received. Tarek´s teaching style and methods were outstanding and because of him, I feel that I surpassed my expectations for this course. Tarek was aware of my proficiency level (beginner), but still challenged me as a student. I feel that I now have a very strong base for further study in the language and I am motivated to develop my skills much further. In short, I wholeheartedly recommend this school and Tarek as an instructor. I will make this known to the language department in my organization as well."


---
Sent:
Saturday, June 04, 2011 6:11 AM


​Hello Tarek,
We have been very happy with the way this class has gone and how you have worked to make it exceptional for our student! Should we have any other projects, we will be sure to have the location closer to your residence.
Thank you again for all your hard work!
​
Ryan Hendrix
l Project Coordinator
Language Training Center l LTC Translations
5750 Castle Creek Parkway, Suite 387
Indianapolis, IN 46250
317-578-4577 l 888-456-1626 l F: 317-578-1673
www.languagetrainingcenter.com
---
I like the confetti. Thanks! And thanks for making the score possible
---
.Many thanks for a very productive five months. I go off to Cairo with a solid framework for what I expect will be a lifetime of learning Arabic. I appreciate the school's efforts to get me off to the best start possible.

---
I've had some prior knowledge of Arabic- but Tarek Mahfouz teaching helped me to get everything straight. He provides an extremely supportive learning environment. MSA Arabic is also a great introduction to all Arabic dialects - if you've mastered MSA Arabic , learning other Arabic dialects will be easy.
---
I've taken 2 sessions with Tarek Mahfouz at The Arabic School of NY and am actively looking to do more. He knows his subject matter and is able to explain it simply and clearly - and memorably! He wants you to understand it. I've learned more from him than I have from my other professors at Columbia university.
---
Hi Tarek!

How are you? It's been a very long time since we last caught up--ishta2tilak ktiir! After studying with you, I went to American University of Beirut for my masters (and then back to Columbia) and for the last several years I've been working with a strategic communications and media consulting firm, helping to manage clients across the MENA region and putting my Arabic to good use
---
Hello, I heard that you are an excellent school, Do you have courses/tutoring for Arab kids ?

Professor Abbas Al-Tonsi
​( The author of Al-Kitaab fii Ta allum al-Arabiyya: A Textbook for Beginning Arabic)

Senior Lecturer
Primary Field Adviser For Arabic
School of Foreign Service in Qatar
Georgetown University
P.O.Box 23689
Education City
Doha -Qatar
Office :974-4457-8252
Mobil :55803774Fax : 974- 457-8261

---
Great! I can't wait to study with you. But please be warned - I have back slid a bit with the language and will need a very good review! I am so happy to be back taking lessons again.
---
Anyway, now that you are a big movie star and diva, I am very grateful you still continue to teach and make time for your fans.

Much appreciated XXX
---
Tarek Mahfouz is a great professor with a unique vision of teaching. I lived in Lebanon for some time and never had any professor like him. He brought great clarify to seemingly difficult concepts and answered my many questions whenever I needed.
---
Thank you for your prayers and good wishes. I cannot even tell you how much I miss our lessons. I have been working on my own - I don't want to lose what you have already taught me!
---
---
El profesor Tarek es exelente. Es muy organizado, y tiene mucha paciencia . Enseña Las clases en grupos pequeños . El habla varios idiomas , puede dar clases de árabe en español. El curso es a bajo costo. El lleva muchos años de experiencia.
Esta soy yo, en el desierto de Sinai con un vestuario beduino.
---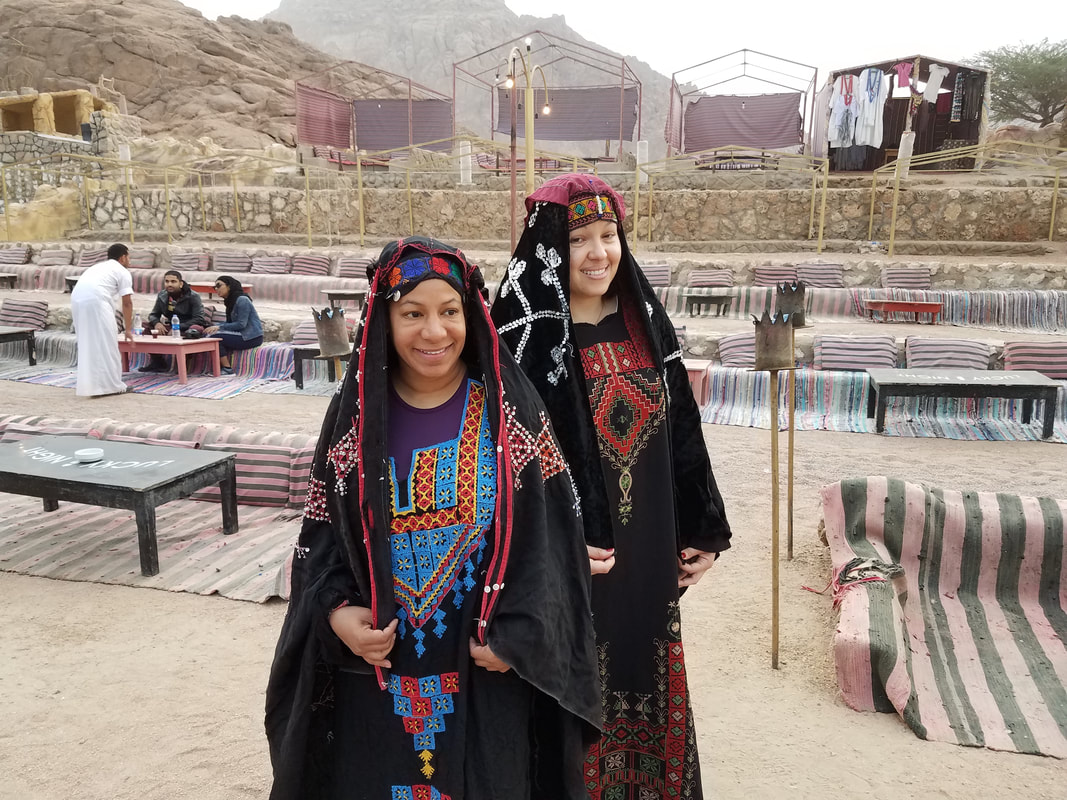 ---
Tarek is a terrific and passionate teacher with a good sense of humor and love of life. His courses are fun, interesting, and informative, as he is a true expert in his field.


---
O Τάρεκ είναι ο καλύτερος δάσκαλος Αραβικών στον κόσμο.

---
Tarek,

السلام عليكم I hope all is well and that your school continues to thrive. I thought I'd let you know we are continuing our adventures to Muslim countries, this time to Pakistan. We are hiking in the northern areas near K2.

Urdu's grammar seems much more confusing than Arabic, but the greetings are the same, so that has been helpful.
Don't worry, we still remember Al Fatiha.
We'll be in Dubai for Eid, which should be exciting!
Let us know if you want any books/items from either spot.
Still your most devoted NYers,
---
I'm not going to repeat what all the other students have already accurately stated about Tarek Mahfouz Arabic teaching, just that it exceeded my expectations after reading the rave reviews.
---
I will most definitely be recommending your textbooks to all my students.

---
Student Course and Faculty Evaluation
---
---
Sent: Monday, December 18, 2017 7:58 PM

مَارحَباً Tarek,
Thank you for great classes this year, and happy holidays and new year!

Look forward to next class and continuing our discussion, inshallah.
---
I was really glad to discover this gem of a teacher, Mr. Tarek Mahfouz. For someone who has long been fascinated by the Arabic language and culture, he gave me an easy way to understand the language and the culture of that region of the world.
His books were a big help because they are entertaining and also informative. Many of them also are quite funny. I learned more from spending a few moments with Professor Tarek Mahfouz's delightful text than I have in many months of studying other works. There's a lot of good insights too into the private lives of Arabs, how they think and what makes them laugh. The use of the cartoons is quite clever. I felt like when I was a child just learning to read and write and the teachers gave us books that were bright and colorful and pulled you in so that while you thought you were having fun, you were actually learning quite a bit.
I'd recommend Tarek and his books to anyone who has studied Arab culture and language or has ever been interested in it. الف شكر يا استاد طارق
---
With more writers like this, we may be able at last to take the first steps to building better communication and hopefully lead to peaceful integration between all our communities.
---
Hi Tarek- XXXX. I will definitely use the Arabic school of NY in the future. Wish you all the best. شكرًا -
---
Hello Tarek:
​Merry Christmas and Happy Holidays!Everyone at Cactus would like to wish you a very Merry Christmas, Happy Holidays and a Prosperous New Year! We would like to send an enormous thank you for your professionalism and hard work. We have received some excellent feedback from our students who are improving their language skills every week thanks to your teaching! We look forward to you being part of a successful 2018 at Cactus!
---
Tarek Mahfouz is truly a gifted and amazing Arabic professor! He can break anyone out of their shell, gently! Wonderful experience!
---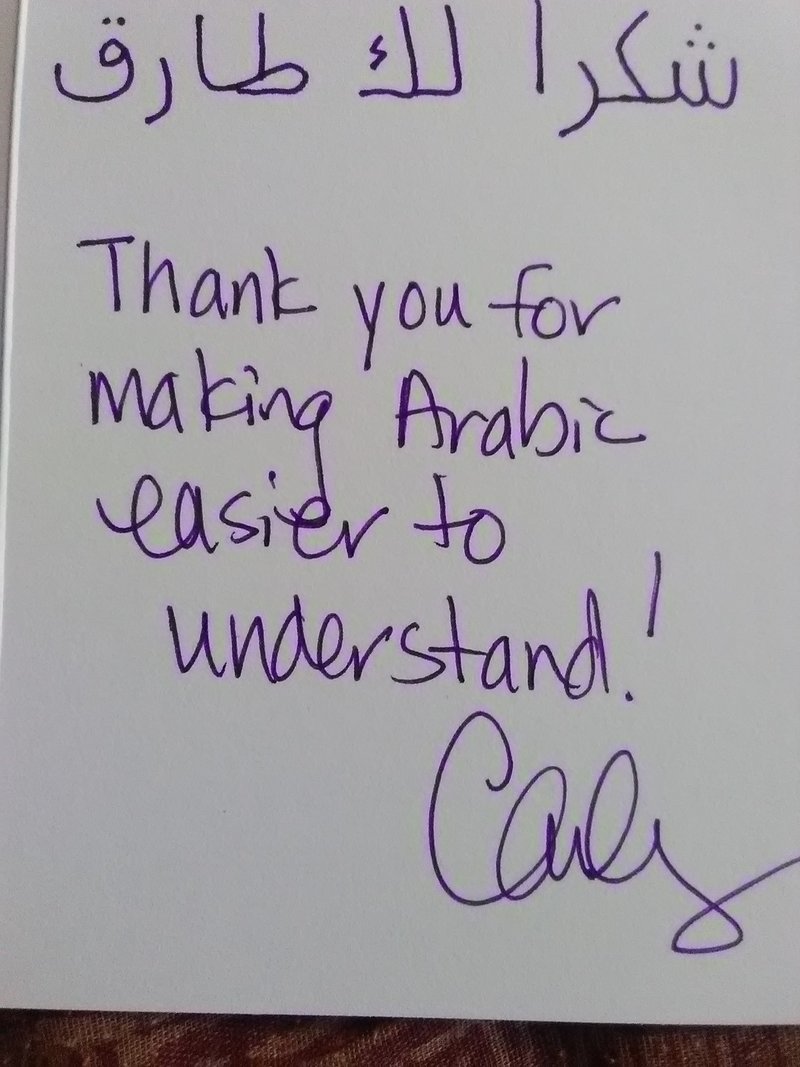 ---
Tarek Mahfouz is an inspirational professor I have ever taken a class with. For many, this class becomes life changing; classmates who struggled to speak in Arabic in public at the start were transformed by 'Tarek' - into highly confident speakers. I was humbled by his devotion to the class.
---
Bonjour à tous,


Je viens de terminer six semaines de cours d'Arabe pour débutant avec l'Institut
« The Arabic School of New York » situé à Manhattan. Cet enseignement a été très enrichissant et je souhaite partager mon expérience.
Durant ces six semaines, j'ai appris l'alphabet et les bases de la langue arabe avec le professeur Tarek Mahfouz qui est très expérimenté dans son domaine.
En venant à New York pour les vacances, je voulais reprendre les cours que j'avais abandonné en France trois ans auparavant. Mon ami m'avait parlé d'un institut qui donnait différents cours selon le niveau. Je n'étais pas complètement débutante mais je préférais reprendre depuis le début car j'avais tout oublié. Effectivement comme toute nouvelle langue qu'on apprend lorsqu'on ne pratique pas, on oublie tout.
Mes cours se sont passés en petit groupe (maximum 4) dans des locaux sympathiques et calmes. J'ai été surprise par le lieu où se sont réalisés les cours mais je n'ai pas été déçue par l'environnement et la qualité de l'enseignement.
Le professeur cerne d'emblée notre niveau pour ensuite nous permettre d'évoluer. Il a commencé à nous apprendre l'alphabet et après deux cours avec du travail personnel, nous connaissions l'alphabet et nous pouvions reconnaître les lettres et les écrire.
Les cours s'appuient sur un livre de 582 pages nommé « Arabic for Donkeys » complètement écrit par le professeur lui-même. En plus de l'alphabet, nous avons appris à lire avec les voyelles, des règles grammaticales, savoir lier les lettres entres elles, la façon d'écrire les lettres quand elles sont au début, au milieu ou à la fin d'un mot, à reconnaître les court et longues voyelles, ainsi qu'à prononcer des caractères spéciaux de la langue.
Le livre est très intéressant mais honnêtement il est impossible de le finir en 6 semaines, et pour les plus motivés, vous pouvez être autonome et continuer à apprendre par vous-même.
En conclusion, cette expérience a été très enrichissante car j'ai appris beaucoup de choses sur la langue arabe et ces cours m'ont permis d'améliorer mon niveau de lecture sachant que mon but est de pouvoir lire le Coran aussi fluidement que je le fais en français.
Je ne vous cache pas que six semaines, c'est très court pour pouvoir atteindre ses objectifs mais on avance bien et il faut fournir beaucoup de travail personnel sinon cela est voué à l'échec.
Je compte reprendre six semaines de cours pour continuer à m'améliorer avec l'aide du Pr Mahfouz qui est à l'écoute de ses élèves et très pédagogue. Ainsi je pense pouvoir atteindre pleinement mon objectif.
Merci pour votre attention et à bientôt pour d'autres nouvelles au sujet de l'enseignement donné par « THE ARABIC SCHOOL OF NEW YORK »


Hawa
---
Tarek is completely dedicated to making all his students excel and the amount of time and energy he devoted to each and every one of us was astounding. Great teacher. ممتاز استاذ
---
Arabic is totally new—and very interesting—to me. Unfortunately, I have no language to which to associate it; so, approaching the subject is daunting, if not overwhelming—perhaps like drowning. So many layers to be opened.
Thank you. I enjoy the class.
---